Brave Like Gabe 5k - 2018 Recap
On Sunday, May 20th, 2018, the Brave Like Gabe Foundation celebrated the inaugural running of the Brave Like Gabe 5k. Hundreds of runners gathered at Lake Como Park in St. Paul, Minnesota on a crisp and sunny morning to break a sweat for a great cause: rare cancer research! Incredibly, those St. Paul runners were joined "virtually" by 1,000+ others across the US and beyond throughout the month of May to help us reach our #1224campaign goal. 1,224 is the average number of new diagnoses of the rare and incurable cancer, Adenoid Cystic Carcinoma, per year in the US. The mission of the Brave Like Gabe 5k was to increase awareness for all rare cancers and fund a research grant for the Adenoid Cystic Carcinoma Research Foundation.
Local Olympian and friend of Brave Like Gabe, Carrie Tollefson, handled emcee duties for the day and started the morning off with an update from Gabe on her ACC fight and her motivation for starting the foundation and 5k. The half-mile Kids Run before the 5k was a highlight with many enthusiastic young runners completing their very first race! Olympian and founder of TrackGirlz, Mechelle Freeman, led the participants through a fun and energizing warm-up. Runners were fueled by Generation UCAN, Run Gum, and of course: hope!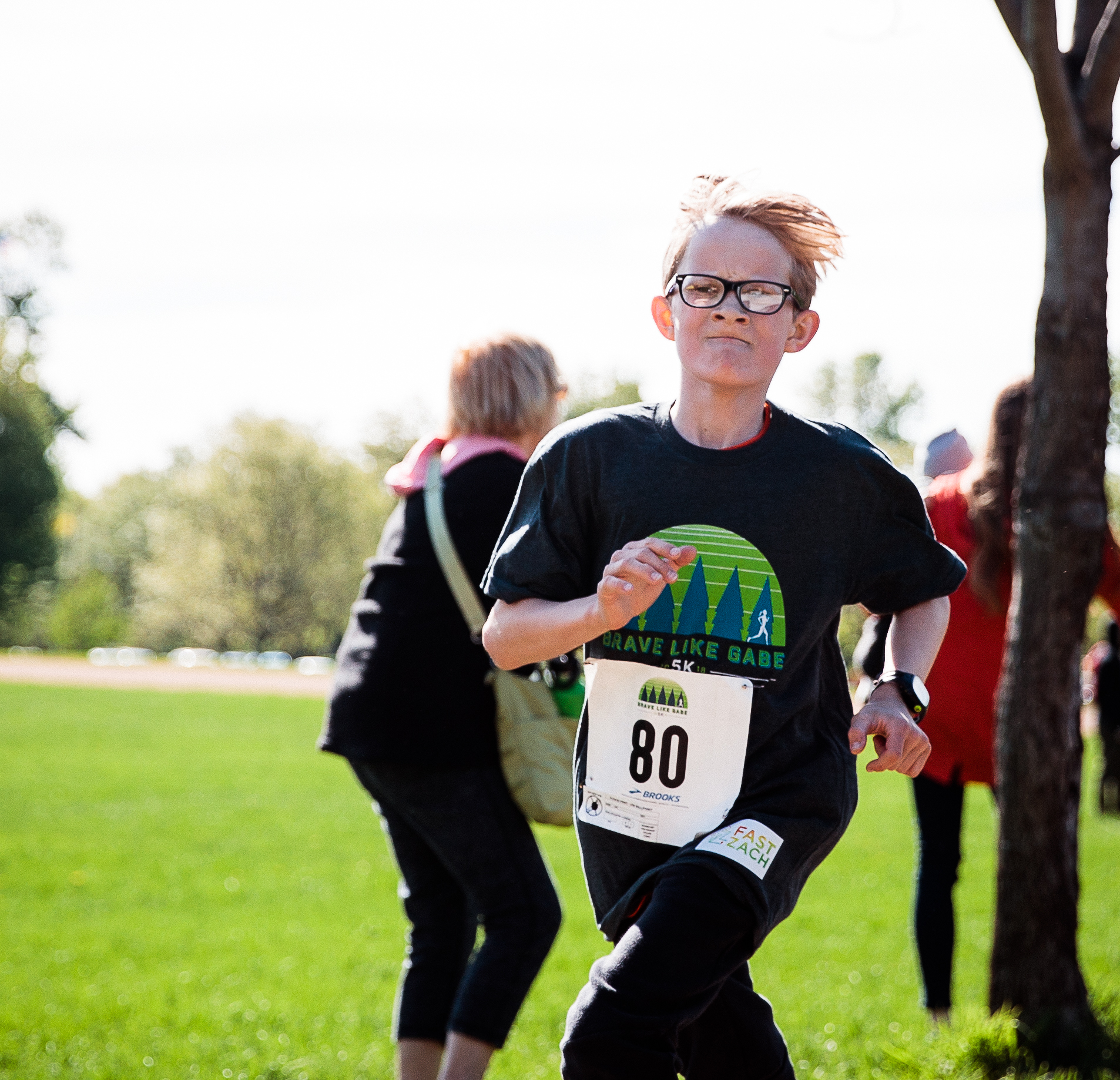 The Brave Like Gabe 5k was proud to host both runners and walkers on our course in support of the cause! We were especially thrilled to have several ACC survivors join us on race day -- the day after an ACCRF-hosted patient meeting on May 19th in Minneapolis. Runners were guided along the Lake Como course by our ElliptiGO guru, Jeff Caron, and Gabe's husband, Justin Grunewald, crossed the finish line first in a time of 15:41 while the the women's race was won by former Gopher Molly Kayfes in 19:27.
What a wonderful first year event! With 100% of registration fees from the Brave Like Gabe 5k (St. Paul and virtual) as well as a generous matching grant of $50,000 from an anonymous donor, the inaugural 5k funded a $109,025 rare cancer research grant through the ACCRF.
Thank you to everyone who joined us in support of Brave Like Gabe and to all of our sponsors who contributed to the effort, with a special shout-out to Brooks Running, KLN Family Brands, and FastZach. We look forward to seeing you again next year as we continue to run on hope in support of rare cancer research!
(All photos by Mark Burch of Retiro Photography.)